Health & nutrition
insights.
RECIPE: Turkey Lettuce Wraps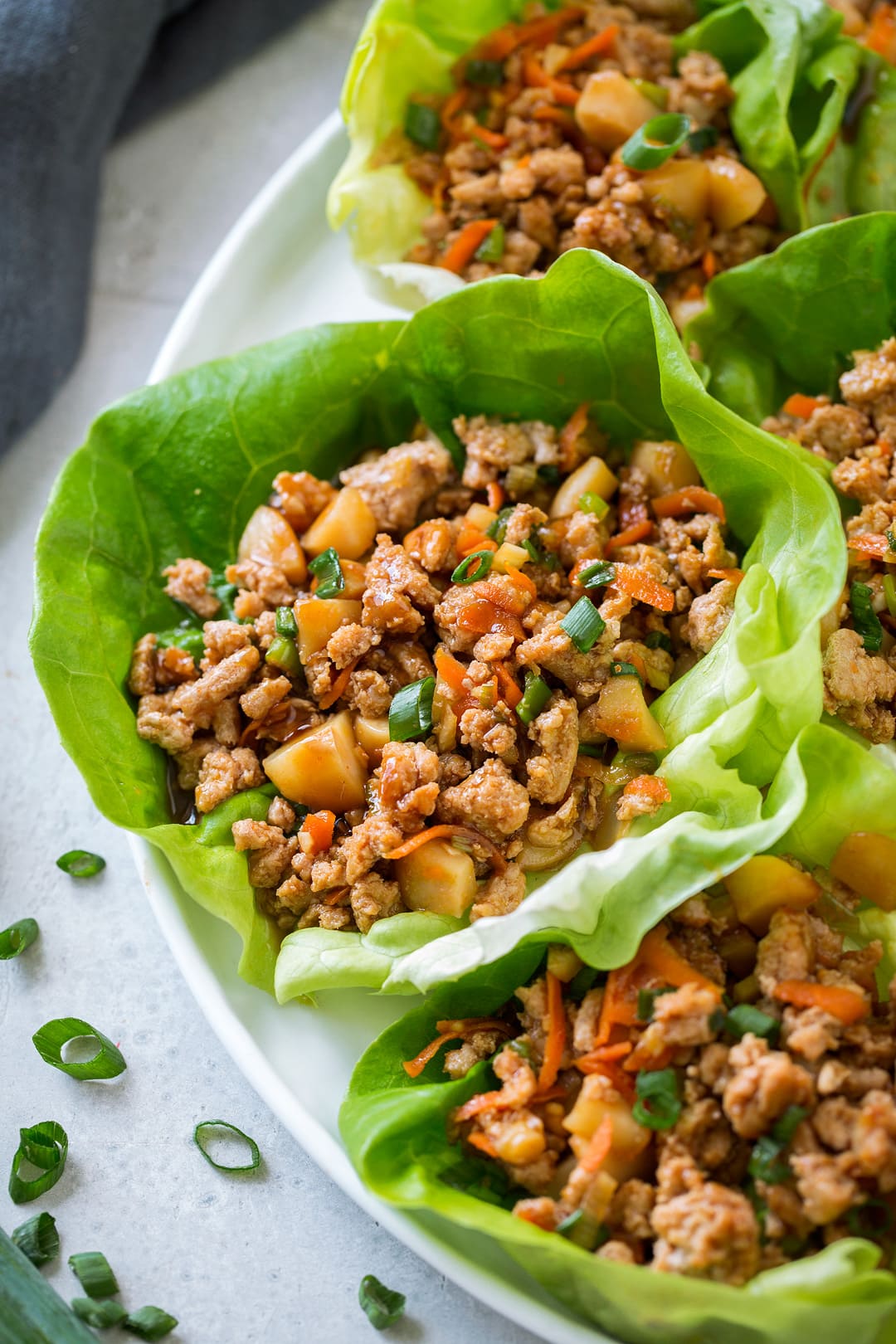 Turkey Lettuce Wraps
Courtesy: Dietitian Alix Shantz of Achieving Your Best
Lettuce wraps are a delicious Asian style dish! They are high in protein and low in carbohydrates. Using low sodium soy sauce and ground turkey cuts down on the amount of total fat and salt; two items that would normally be too high in restaurant style lettuce wraps!
Prep: 5 minutes
Cook Time: 20 minutes
Servings: 4
Ingredients:
For the turkey mixture:
1 tablespoon olive oil
1 yellow onion, chopped
3″ long piece of fresh ginger, peeled and chopped
1 teaspoon pepper
2 garlic cloves, minced
1 pound ground turkey
1/4 cup low sodium soy sauce
Toppings:
1 head Bibb lettuce
3 scallions, sliced
1 cup shredded carrots
1/2 cup unsalted peanuts (crushed)
Peanut Sauce Topping:
1/2 cup peanut butter (or other nut butter)
2-3 Tbsp low sodium sauce
1 Tbsp maple syrup
1 tsp red pepper
2 Tbsp lime juice
1/4 cup Water
Instructions:
In a medium size skillet, heat the olive oil over medium high heat. Add in the onions, ginger and pepper, cooking until the onion starts to turn translucent, about 5 minutes. Add in the garlic and cook for 1 more minute.
Add the ground turkey to the same skillet along with the onions, garlic and ginger, breaking it up as it cooks, about 10 minutes. Add in the 1/4 cup low sodium soy sauce, turn the heat up to high until all of the soy sauce is absorbed. Remove from heat and allow to cool for 5 minutes.
Spoon the cooled ground turkey into the lettuce cups and top with shredded carrots, green onions and unsalted, crushed peanuts.
NOTE: The turkey mixture will keep in an airtight container for 1 week in the fridge.
For the Sauce:
To a medium mixing bowl add peanut butter, low sodium soy sauce, maple syrup, lime juice, red pepper and whisk to combine. Add water a little at a time to make the sauce less thick.
Nutrition Information:
306 calories, 13.8 fat, 617mg sodium, 14g carbohydrate, 35.2g protein, Iron 22% Daily Value