Health & nutrition
insights.
RECIPE: Rosemary Turkey Tenderloins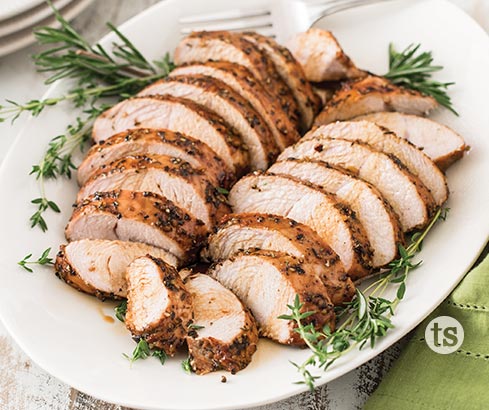 Rosemary Balsamic Turkey Tenderloin
Courtesy: Dietitian Cassie Dimmick of Achieving Your Best
Ingredients:

1 package turkey tenderloin
2 sweet potatoes, washed and cut into cubes
4 c. Brussels sprouts, washed and cut in half
Salt and pepper
2 Tbsp chopped fresh rosemary
1 garlic clove, crushed
1/4 c. olive oil
Directions:
1. Add olive oil, rosemary and garlic to a gallon sized bag. Add the turkey tenderloin and let sit in the refrigerator for at least an hour.
2. Preheat oven to 400. Line a baking pan with foil or parchment paper.
3. Add potatoes and Brussels sprouts to the pan, leaving room in the middle for the tenderloins.
4. Add the tenderloins and the marinade to the pan, drizzling on the veggies. Sprinkle salt and pepper to taste.
5. Bake for 40-45 minutes, or until a thermometer reads 160-degrees
MEAL PREP NOTE: You can use any leftover turkey tenderloin for sandwiches, in soup, or on a salad.