Health & nutrition
insights.
RECIPE: Mix and Match Homemade Vinaigrette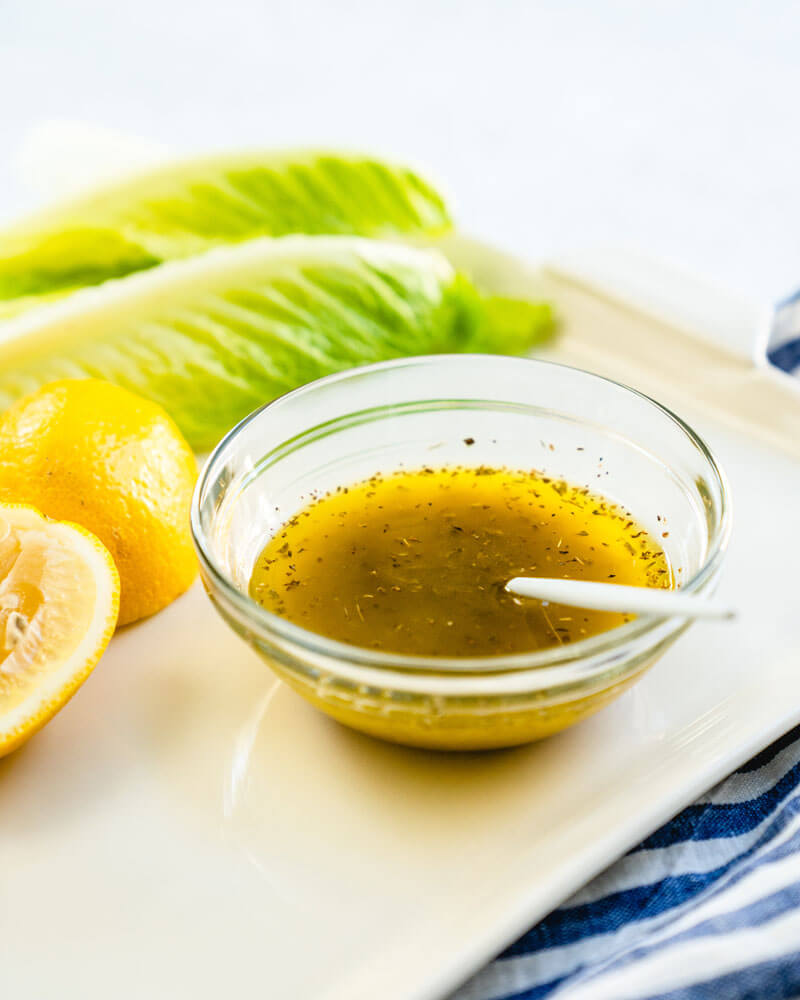 Homemade salad dressings taste so much better than store bought, are healthier, and are super easy to make! Here, we break down how to make a vinaigrette and will give you some great recipes or you can create your own with the basic vinaigrette principles we cover.
First, you need to know that the ratio of oil to vinegar is typically 3 to 1, so for every 3 Tbsp oil you use, 1 Tbsp of vinegar. The rest is about jazzing it up with different flavors to really make your salad exciting!
Ingredient 1: Flavor(s) of your choice
Shallot
Garlic
Onion
Fresh or Dried Herbs
Anchovy Paste
Pesto
Hot Sauce
Mustard
Soy Sauce or Tamari
Orange juice
Ingredient 2: Salt and Pepper-1/2 tsp of each or to taste
Ingredient 3: Vinegar or Lemon/Lime Juice
Balsamic Vinegar
Apple Cider Vinegar
Red or White Wine Vinegar
Champagne Vinegar
Rice Vinegar
Sherry Vinegar
Ume Vinegar
Lemon Juice
Lime Juice
Ingredient 4: Oil
Since healthy oils go rancid quickly, buy these in small bottles, keep in a cool, dark place and use quickly after opened.
Extra Virgin First Cold Pressed Olive oil (I like California Olive Ranch Brand)
Avocado Oil
Grapeseed Oil
Sunflower Oil
Walnut Oil
Toasted Sesame oil
Flax oil
Making the Vinaigrette:
Combine First 3 ingredients in a glass bowl and mix well with a whisk. Slowly add the olive oil while whisking so you end up with a well mixed, emulsified dressing. You can also throw everything in a mason jar and shake it up. Oils and vinegars and seasonings all are a little different, so you may need to adjust ingredients, depending on what you are using. The best way to taste the vinaigrette is to dip a piece of lettuce in it and then you can add anything that it may be missing. Experiment with different ingredients listed above to make combinations you love!
The Recipes:
Balsamic Vinaigrette
1 Tbsp shallot, diced

1 tsp dijon mustard

1/2 tsp each salt and pepper

1/4 c. Balsamic vinegar

3/4 c. Olive oil
Dijon Vinaigrette
1 Tbsp shallot, diced

1 Tbsp Dijon mustard

1/2 Tbsp honey

1/2 tsp each salt and pepper

1/4 c. White wine vinegar

3/4 c. Olive oil
Lime Mint
1 Tbsp chopped scallion

1 Tbsp chopped mint

1 tsp fish sauce

1 tsp lime zest

1/4 c. Lime juice

3/4 c. Avocado oil
Apple Cider Sesame
1 Tbsp chopped scallion

1/2 Tbsp Chinese Mustard

1/2 tsp each of salt and pepper

1/4 c. Apple cider vinegar

1/4 c. Toasted sesame oil

1/2 c. Grapeseed oil
Italian Vinaigrette
1 Tbsp chopped garlic

1 tsp Italian seasoning

1 pinch crushed red pepper flakes

1/2 tsp each of salt and pepper

1/4 c. Red wine vinegar

3/4 c. Olive oil
Lemon Vinaigrette
1 Tbsp minced garlic

1/2 Tbsp oregano

1/2 tsp each of salt and pepper

1/4 c. Lemon juice

3/4 c. Olive oil

Cassie Dimmick, MS, RD, CSSD